Step One
Me and my personal submissive have settled on a first working device for his chastity training: the Locked In Lust Vice Mini, a device that allows for maximum adaptation.
I asked my sub to start a journal to describe the different steps we are going thru and his personal journey towards chastity.
Here is his first entry written about his first 24-hour locked in chastity:
"Queen decided to test the fitment of the newly arrived Vice mini cage for a period of 1 day. After Our/our prior failed attempt with a cheap Chinese metal cage We/we were both quite excited to get the cock locked up. She was generous and decided to start me off with the largest of all the chastity pieces. XL ring, large spacer and large anti pullout. After some trouble getting my excitement under control Queen came up with the brilliant idea of using ice packs to shrink the excitement down. Her genius never fails to surprise me. Eventually everything was packed in and the lock was clicked in place. I immediately felt a surge of submission flow through me.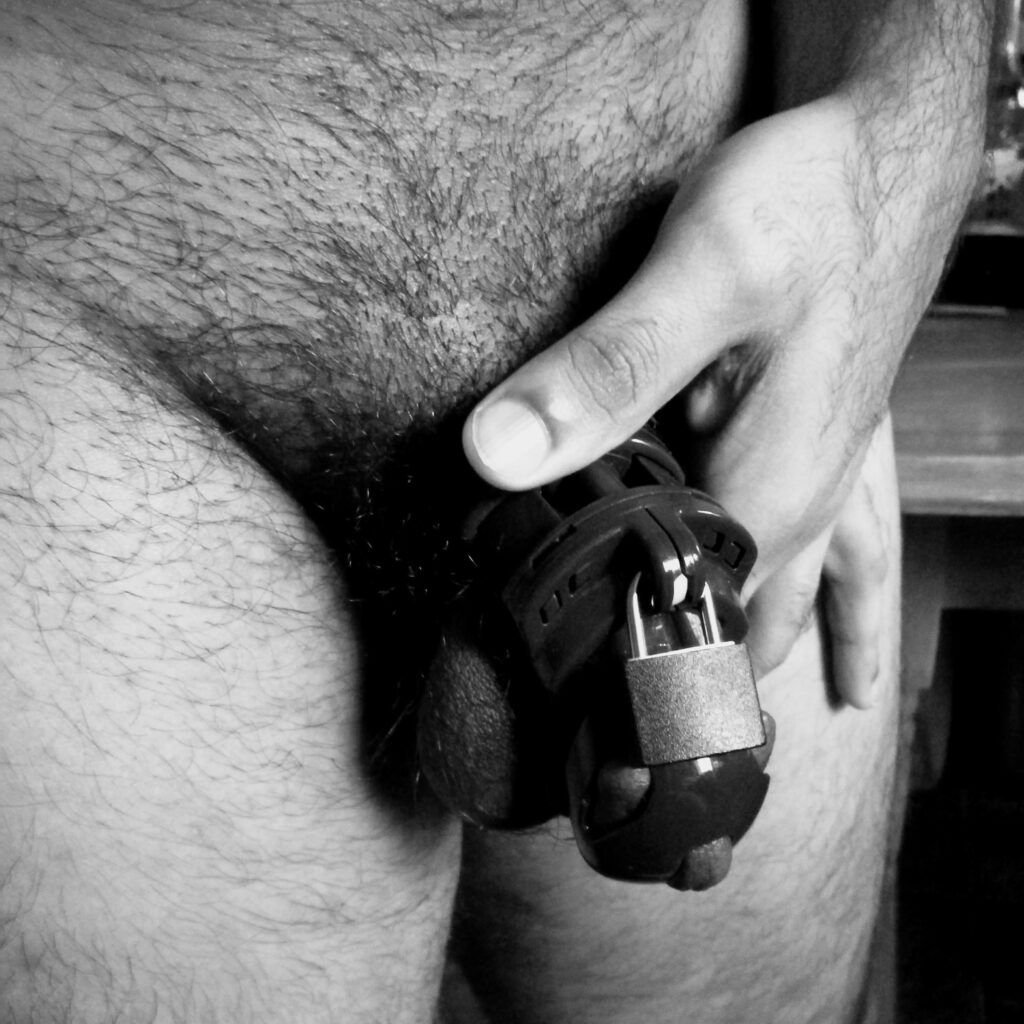 "The cage was quite comfortable but the excitement managed to push the ring around the balls. Queen immediately decided to downgrade the ring to a medium and in no time I was back under Her lock. She was happy with the purple color of the cage and the way the penis looked in the cage. It made me feel extremely proud to have chosen something She approved.
"The day went pretty smooth and the cage felt extremely comfortable. It did not affect my ability around the house and apart from the sensation of a closed grip around the head of the penis everything felt quite normal.
"Soon I had the urge to use the bathroom. I have always peed sitting down when I am at Her place. Peeing in chastity though, was a lot different than what I expected. I could hear the urine flow out but had no sensation of it leaving me. It felt like the penis does not belong to me anymore (which was an exciting feeling).
"Soon it was night time and Queen wanted me to read Her the next chapter of a fictional erotic story series We/we started following. The story explores concepts of FemDom, denial and chastity. As I started reading the story my Queen started to fondle and tease me. She rubbed her palms on my thighs, sometimes gripped the cage, teased the head that was poking out from the cage, etc… The combination of the cage, the erotic story and Queen's skilful hands started to drive me mad. I was moaning and squirming and shivering like a cat in heat. I was leaking precum like a broken faucet and Queen dabbed some on Her finger and fed me the juice of denial. Although I did not come that night, after I settled down from the excitement it felt peaceful. It felt like I had an orgasm but I had none of the downs one would feel after a male orgasm. I snuggled behind my Queen, thankful for letting me share Her warmth and drifted off to sleep.
"About 2 in the morning I was woken up by a sharp pain on the balls. The cock was trying to get hard and the ring was pushing the balls quite hard. I realized I have to calm myself down or it's going to be a very long night. I started thinking about things that would normally help a guy calm down only to realize that I most of it doesn't work for me. Eventually thinking about work helped me calm down and I drifted off to sleep. This happened once more that night.
I woke up to the excitement of knowing that I might be released from the cage. Around 11 Queen decided to unlock me and started thinking whether She should continue my frustration or allow me an orgasm… Eventually She asked me to go down on Her. By this point I have already started associating Her sexual release to my release (when She comes, I get the sensation that I had an orgasm too). Soon all my senses were engulfed in the addictive stimuli of Her sexual release. Queen was kind enough to give me a release afterwards but made sure that I consumed all the release I produced (I have grown to like the taste of it and have started associating the taste to sexual release)."
This submissive is responding well to chastity. It presented an improvement in attitude and willingness to accomplish its chores as I want them. It became a lot more detail-oriented, a quality that I appreciate tremendously. It was also made more sensitive to My touch and attention, which is finally paying justice to My magnanimity…