Step Two
After a successful first step of 24 hours and a day of rest, my submissive was ready for a new period of confinement. He was for now yearning for more. The next session would be of 3 days.
Here is his recountal this new step:
Back to chastity mode – Step 2
"After the successful first break in with chastity, my Queen decided 3 days for the next break-in. After a day of rest to heal from the chafing under the balls from the chastity ring, i was back under Her lock again.
This time She decided to change the configuration to see if it would help with the chafing. So my Queen decided to use the smallest spacer with the smallest ring and the largest anti pullout to see how it affected the chafing. I was also allowed to dab some silicone lube under the ring to make it more comfortable.
Day One
"On the first day, i had to go to work. This was scary for me since it was the first time i wore chastity out in public. Yet, the thought of being locked for Her and doing something challenging sent a rush of submission through me. She was gracious enough to hand me a spare key which i had to wear around my neck and would only use in case of absolute emergencies and even then only with Her permission. Heading out i was a little bit self-conscious and was stealthily checking my crotch now and then to make sure that nothing was too obvious. The day went quite uneventful and apart from the head of the penis chafing a little on my innerwear, the day was quite comfortable.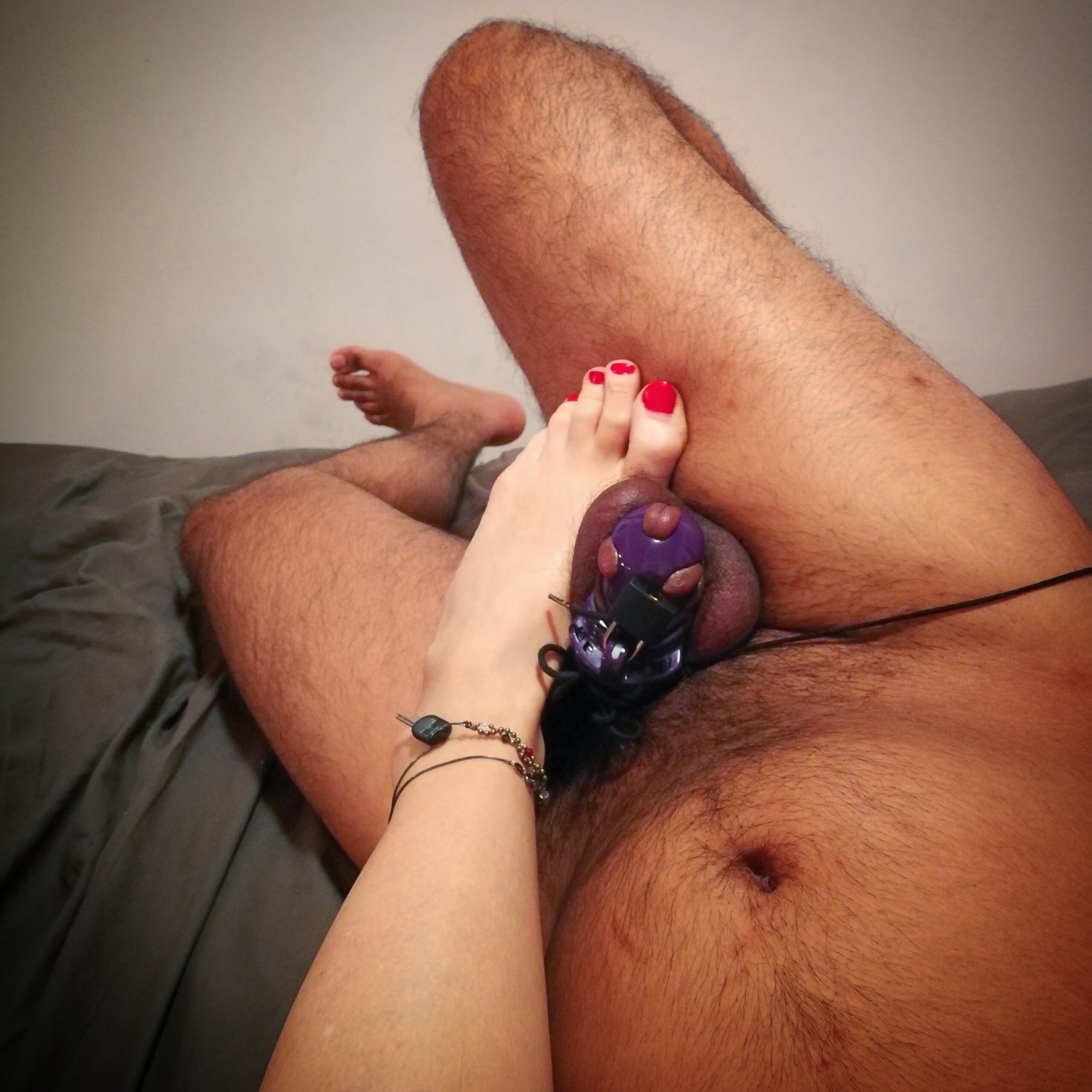 Caged, CBT'ed and bursting
"At night, we read a couple of chapters of the book "The Hesitant Mistress" and afterward discussed a little about how i felt when she had an orgasm and some nuances of how She likes to be orally pleased. Similar to the first time, i woke up about 2 or 3 times at night to slightly painful nocturnal erection attempts and had to get up and pee to calm the erection down. I was scared of waking up my Queen so i tried to be as quiet as i can by tiptoeing through the corridor while heading to the bathroom.
Day Two
"The next morning we woke up to my Queen demanding me to go down on Her. I felt so happy and proud to be asked to please Her and immediately crawled down between Her legs to please Her. The aroma of Her excitement mixed with the tight hold of the cage on the cock was driving me into a state of berserk. I was kissing Her inner thighs and around her clitoris to ease Her into the oral service. Usually, we try to put a pillow under her bum to lift her hips higher so that it's a bit easier for me to lick Her. But today when i requested the same She denied the pillow and told me to work harder to please Her. Her display of dominance pushed me down to a deeper state of submission which masked the pain i felt in my neck. Being a masochist, pain is something i have always enjoyed, but this time, bearing pain for pleasing my Queen felt divine. My pain mixed with my Queen's pleasure seems to be doing something special to me. I licked her earnestly and was gifted with the opportunity to see Her have a strong orgasm. Afterward, a sweaty me was allowed to crawl up to Her and was allowed to hug Her tight. Even though i did not cum, i felt sated and happy beyond measure.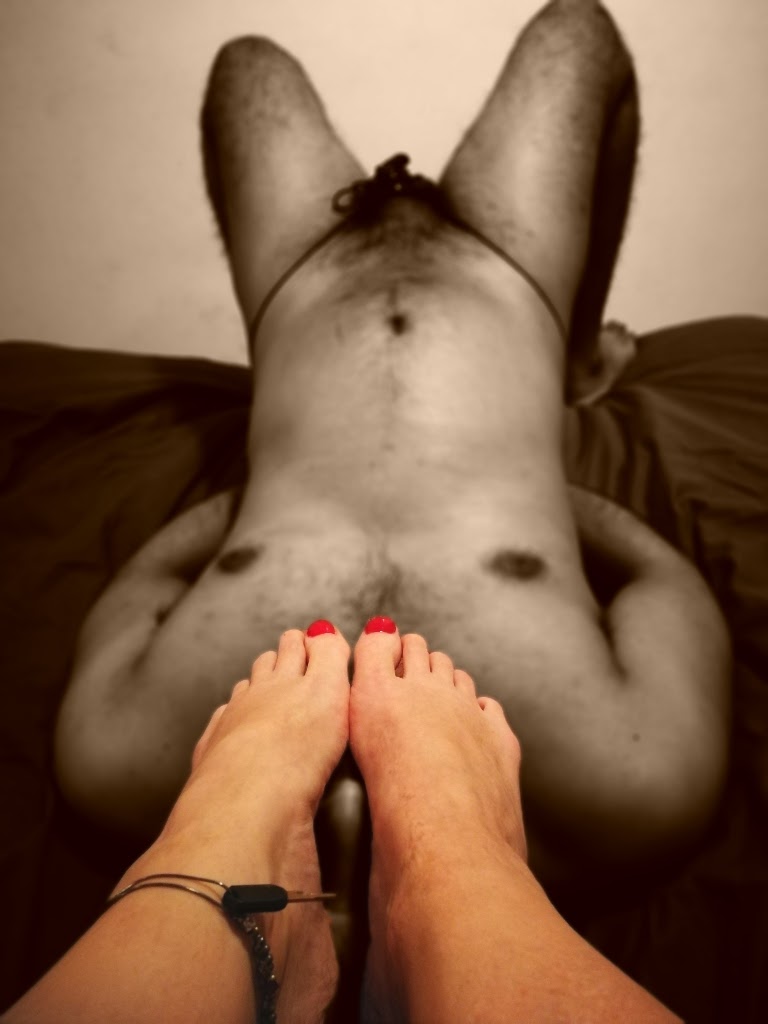 "The day went pretty normal except that i started noticing a sharp pinch under the balls now and then. i moved the rings once in a while to deal with the pain and it seemed to go away pretty easy. I was quite tired from the disturbed sleep i had from the previous night and it made me appreciate my usual ability to sleep well. It also made me realize how it felt for my Queen who is a light sleeper and wakes up once or twice every night and has trouble going to sleep afterward. I understand Her pain now and feel bad about what She has to go through daily.
"As night started to fall in we decided to read another chapter of the erotic fiction we were following. I managed to go through about half of a chapter before the pain from the attempted erection became too hard for me to handle, i was tired and in pain and begged my Queen to let me out of the cage. She replied boldly:
"I know you are in pain. But you have to get used to this. So, no, you will stay locked".
"Her strength and control over me put me in a deep submissive state which gave me enough strength to continue under Her lock. I am so grateful for Her strength and Her discipline. I again had a difficult night with having to get up numerous times to relieve myself.
Day Three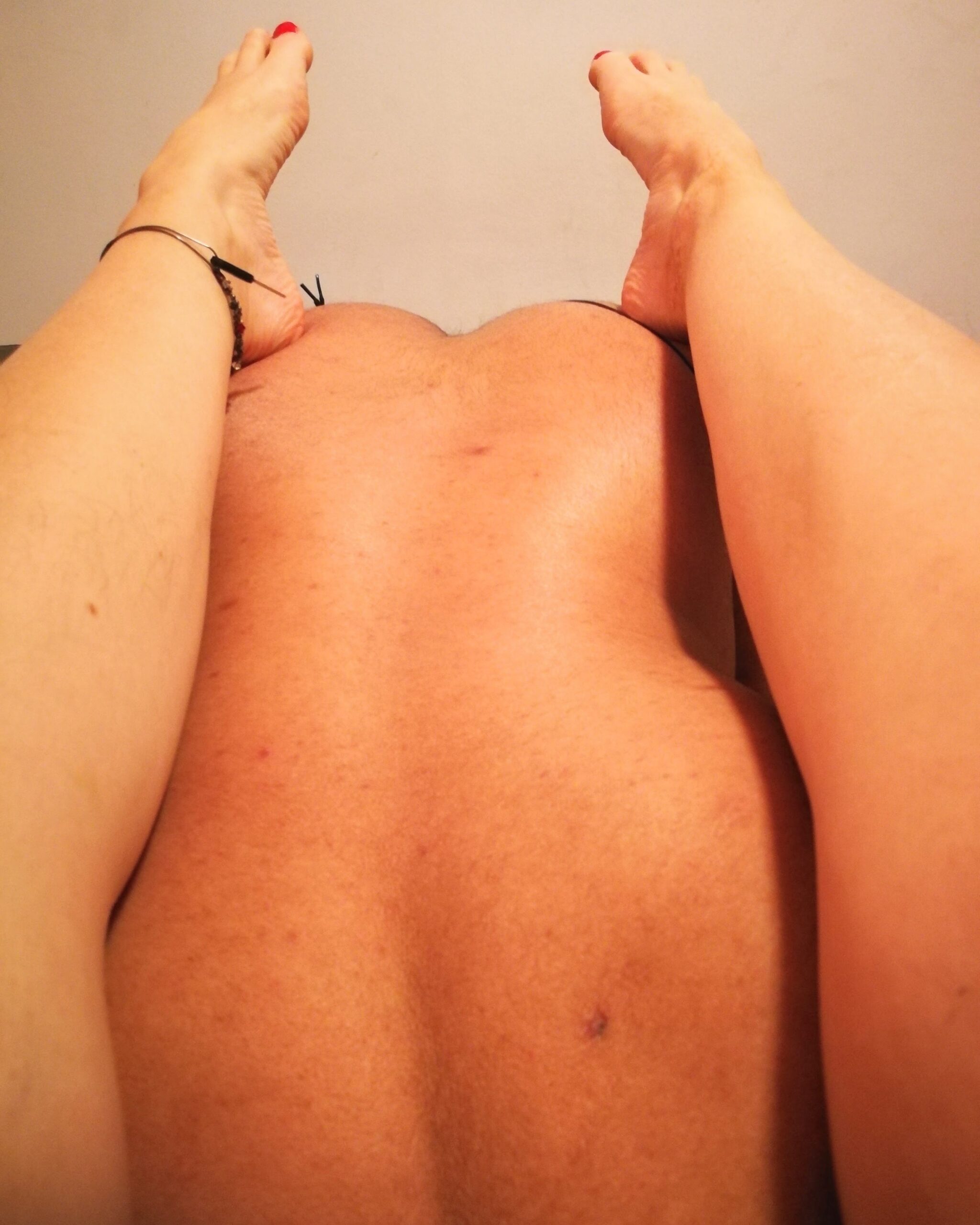 "I woke up the next day feeling quite tired but in deep submission. I felt a huge rush of love, respect, and submission for my Queen. She allowed me to kiss Her feet before we woke up. The day was quite normal and while the pinching under the balls still happened, it was less often than the day before.
"Towards the evening we were both done with our work and Queen decided that she wanted Her nails to be done. She had picked a bright red polish to put on Her nails and this is a color that always gets me excited. She played with the balls with her toes while i was focused on painting her other toes and teased me continuously through the whole process. It was extremely exciting and at one point i was afraid if I'd burst open the cage. I was leaking continuously and in large quantities and it felt like i was leaving a trail wherever i went.
"At night we had a lengthy discussion on the future and how She envisioned chastity would change our relationship. She wanted to stop PIV with me completely as She felt this would make chastity easier for me. While the power exchange of such an arrangement sounded very appealing the thought of living out this fantasy scares me quite a bit. We also discussed the possibility of Her having PIV with someone else while i would be made to stand on the side to serve Her and watch Her having sex. Again, while the idea is extremely exciting to me, i do not know if i would be able to handle the emotions that come with an arrangement like that. Chastity has done magical things to me so far so maybe a longer-term in it would probably strip my inhibitions and fear of our interest in cuckolding.
"Similar to the other nights i woke up to painful nocturnal erections again and this time i could not go back to sleep at all. i decided to poke around chastity-mansion for advice on how to handle chastity at night and it ended up taking me to this incredible blog called Real Female-led Relationship.
"By this time my Queen had also woken up and we decided to read some of their articles on how to do FLR. We were quite interested in the in-depth description of the hormonal changes and conditioning chastity does on the male brain and it explained a lot of symptoms i was going through. Eventually, She drifted back to sleep and i stay awake counting the hours until i might be released.
"Queen had informed me already that by 11 am that day She would consider the option to release me from chastity. I laid awake counting the hours till 11. Time was slowing down but eventually, it hit 11. I was filled with excitement and turned towards my Queen only to see Her in deep sleep. I did not feel pain, I did not feel frustration. I lay awake looking at her beautiful face. I felt a strong connection, immense love, intense devotion, and deep submission to Her.
I want to keep you locked until you kiss my feet and beg to me… And then I'll keep you locked some more.
The Release
"Eventually, She woke up around noon and asked me to bring the key to the cage. I felt like a kid on Christmas morning all giddy and excited to get unlocked. She removed the cage and allowed me to enter Her. The orgasm that followed was so intense and strong that my brain couldn't register any pleasure from it. Then, Queen decided to play with my prostate and make me come again. In no time at all, She located the prostate and started massaging it while She was touching me with her other hand. I soon erupted to one of the strongest orgasms i had in my life and she directed the penis to my face so that all the cum fell on my chest and my face. I saw a primal and pure dominance on Her face that sent shudders through my spine. As i licked the cum clean from her hands all i could think was how lucky i was to become the property of my Queen."
My submissive was very obedient throughout this whole session. It just makes Me relinquish for more, longer sessions…
A chastity cage is really a dominant's best friend, such an empowering tool! The effect it has on the male could be compared to a hard drug. It makes me wonder if in fact it wouldn't be the absence of some male hormones that makes the magic happen. Could it be that male hormones are either a driving force for them to do everything they can to get what they want, and that their mere absence turn them into benevolent, easygoing and entranced worshippers?
I just hope he will not have too much chafing from it, so we can restart this real soon!