Impact play, spanking, flagellation, all music to Queen Sensoria's ears. These terms, as well as many others, are all used to describe the art of hitting well.
More precise to the tool in use are the terms whipping, belting, flogging, paddling, caning, single-tailing and cropping; and to the part that is hits are spanking (buttocks) and slapping (face).
Over-the-knee spanking is also a common practice, as well as hairbrush spanking . Those 2 practices have a a charm of olden days about them that adds an interesting psychological aspect for some.
Queen Sensoria likes to build up a certain resistance in her subs, so She can have her fun with them. She likes to start with lighter tools, misleading them into thinking it's going to be too easy for them to feel any pain… She also likes to keep hand-spanking for the end as the feel of her royal touch is always special to her subs.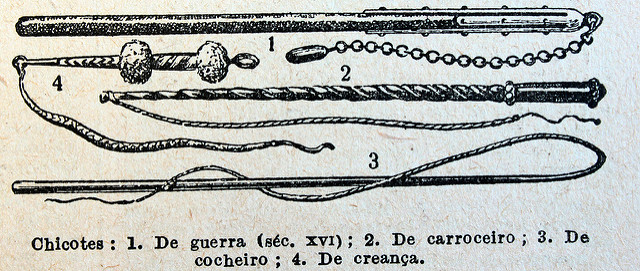 As She generally plays in relatively small spaces, Queen Sensoria loves to go occasionally to a park on a warm sunny day to practice bullwhip cracking.
By Bernard Montorgueil

"Half-naked guy gets whipped by two beautiful women" by Eric Stanton

"Blonde male slave gets his ass flogged" by Eric Stanton

"Secret garden 1 with Mrs. Weltsova" by Sardax

"Secret garden 2 with Mrs. Weltsova" by Sardax

"Naked male gets his ass canes over his Mistress knee" by Bill Ward
For more information, here is a list of different impact tools (by Sex Toys Collective) and various concepts related to impact play on Wipipedia (by LondonFetishScene).