The pleasure that Queen Sensoria receives from foot worship or by having them tickled or malaxed is intense and incomparable to what she gets from any other parts of her body. Foot fetish sends shivers through her spine and a pleasant sense of eeriness to her mind.
It is what makes her mind best wonder about a world of female supremacy…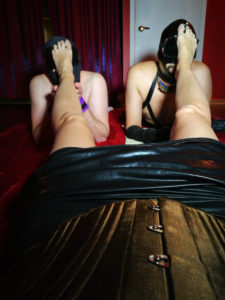 QueenSensoria has always enjoyed being worshipped at her feet. From high above, seeing her submissives lick her boots to the sole, caressing her feet and massaging them is for her a divine delight that she loves to indulge herself into. For her submissives, it is a reward or a way to come down after an intense session, the foot worshipping allowing them to reflect on their experience, admire and chat with their Queen in a relaxed atmosphere.
The light scent and moist of Queen Sensoria's feet are the objects of desire of all foot fetishists. She loves to ravish her submissives with them and know how precious is their perfume.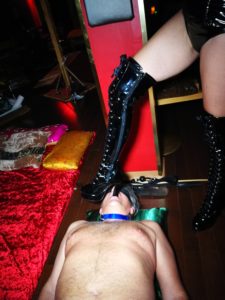 Queen Sensoria practices foot, boot and shoe fetish (retifism) and love to receive foot licking and foot and leg worship and massage with her feet clean or dirty. Do note that Queen Sensoria does not perform foot jobs. On the other hand, she loves trampling and she will give more information about this kink soon in these pages…
Submissives who want to excel in the art of foot worship should also consult this excellent article by The Femdomist on The Submissive Guide, The Art of Foot Worship.